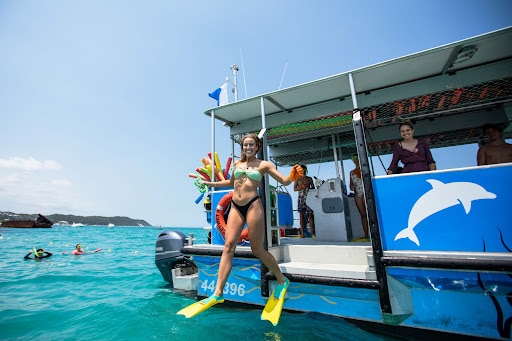 The Best Destination in Queensland 2021
The Island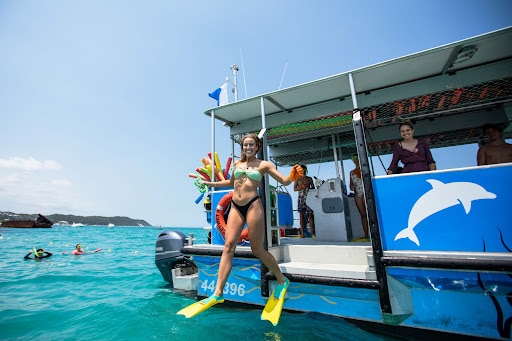 The question of the year: "What are we going to do this summer?"
With pins put into international holiday plans, you're probably wondering: "where else can I go that feels as if I've flown to Bali without leaving the country?" We have the answer for you: The stunning Moreton Island (Mulgumpin). Pristine waters and stretches of golden beaches, world-class snorkelling, and abundant wildlife create the picturesque Moreton Island.
Here's why a See Moreton Dolphin & Tangalooma Wrecks cruise, only 70 minutes from Brisbane, is the perfect gateway to paradise.
A local's secret, Moreton Island is a unique holiday destination to 40km from the coast of Brisbane.

Begin your Queensland Holiday in the capital of the sunshine state, Brisbane. The heart of SEQ gives easy access to taste all slices of Australian paradise, from the Gold Coast and its national parks to the golden beaches of the Sunshine Coast.

You can board our luxurious catamaran, Spirit of Migaloo II, from Rivergate Marina in Brisbane and enjoy a sub-tropical day out. Being a day trip, you can enjoy a full day of island adventures and return to your accommodation by dinnertime.
Divine weather and turquoise water
Picture a beautiful tropical island with golden beaches crystal clear waters. You won't have to imagine anymore when you visit Moreton Island. A See Moreton day trip includes snorkelling and swimming in turquoise water, abundant with coral and marine life.

The average temperature on Moreton Island over the summer is 28°C, and over 90% of days are full of beautiful sunshine.  The water temperature can reach up to a refreshing 28°C.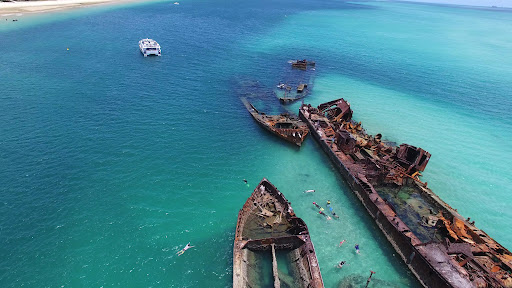 The Tangalooma Wrecks against stunning turquoise water.
There aren't any snorkel sites in Brisbane, but only 70 minutes from the city is a passage to paradise. Snorkelling the world-class Tangalooma Wrecks is a highlight on your See Moreton tour. Discover schools of rainbow fish, turtles, dugongs and colourful coral.

Your ticket includes all that you need to snorkel: Your mask, snorkel, gloves and fins (flippers). Our professional snorkel guides will be there to guide you and help you find the best places in the reef to spot wildlife. Snorkelling is open to all swimming abilities, with floatation devices and safety procedures in place.

Please note: Snorkeling at the Tangalooma Wrecks is recommended for children aged 6 and up. Younger children are welcome to snorkel under competent adult supervision during free beach time.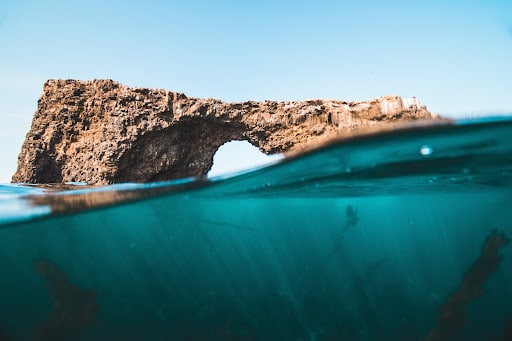 The mysterious Tangalooma Wrecks (Image courtesy Shutterstock)
We have collaborated with the best local producers in the Gold Coast and Brisbane region to carefully craft a delicious tropical buffet lunch. Indulge in fresh king prawns, maple-glazed ham, tender roast chicken and a delightful assortment of sides.

In the afternoon, cool down with a tropical fruit platter and refreshing happy hour deals.
Dolphins and Turtles and Dugongs, oh my!
Moreton Island (Mulgumpin) boasts one of the largest dolphin populations in the world, consisting of over 700 Indo-Pacific bottlenose dolphins and 200 Australian humpback dolphins. Dolphins are commonly found surfing at the bow of our vessel.

Our cruise will take you on a wildlife discovery tour as we look for shadows in the water that could be a sea turtle or even our favourite local dugong, Dougie.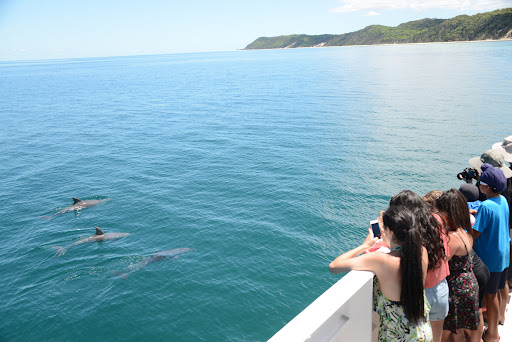 Dolphin watching on our Moreton Island (Mulgumpin) Cruise
See Moreton Dolphin & Tangalooma Wrecks cruise is the ideal day trip from Brisbane. It is perfect for families young and old, couples who want a romantic getaway or social groups looking for something unique.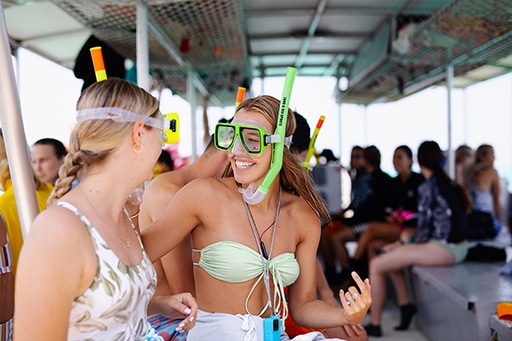 Grab your bestie and enjoy fun in the Moreton Island (Mulgumpin) sun.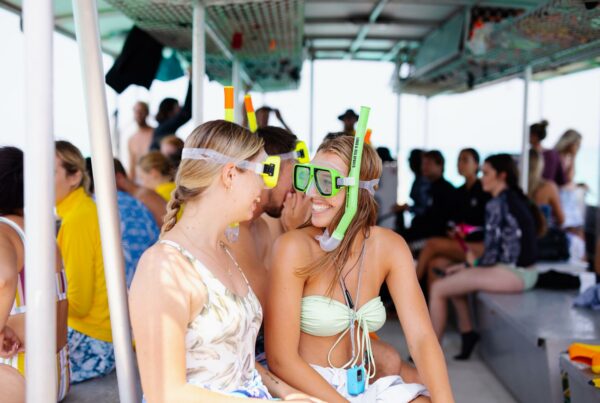 Beginners Guide to Snorkelling
Snorkelling at the Tangalooma Wrecks at Moreton Island (Mulgumpin) is the highlight of your See…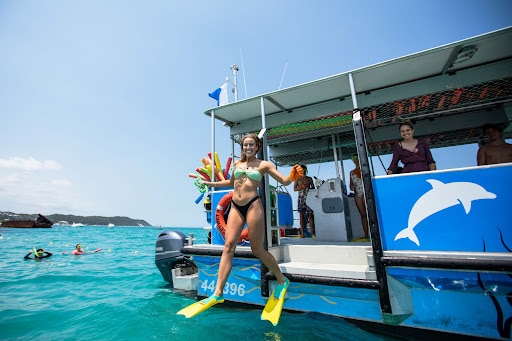 The Best Destination in Queensland 2021
The question of the year: "What are we going to do this summer?" With pins…