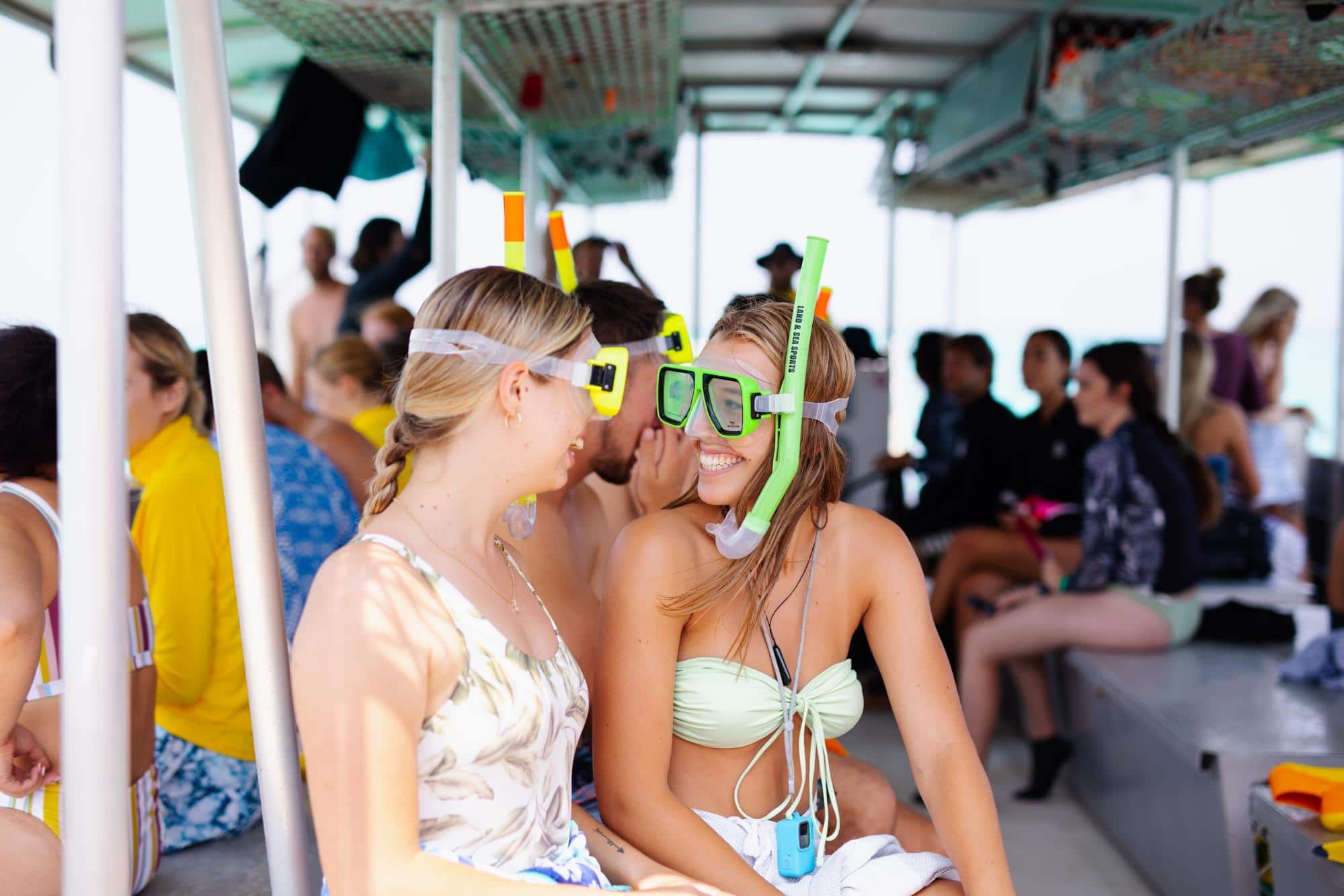 Beginners Guide to Snorkelling
Activities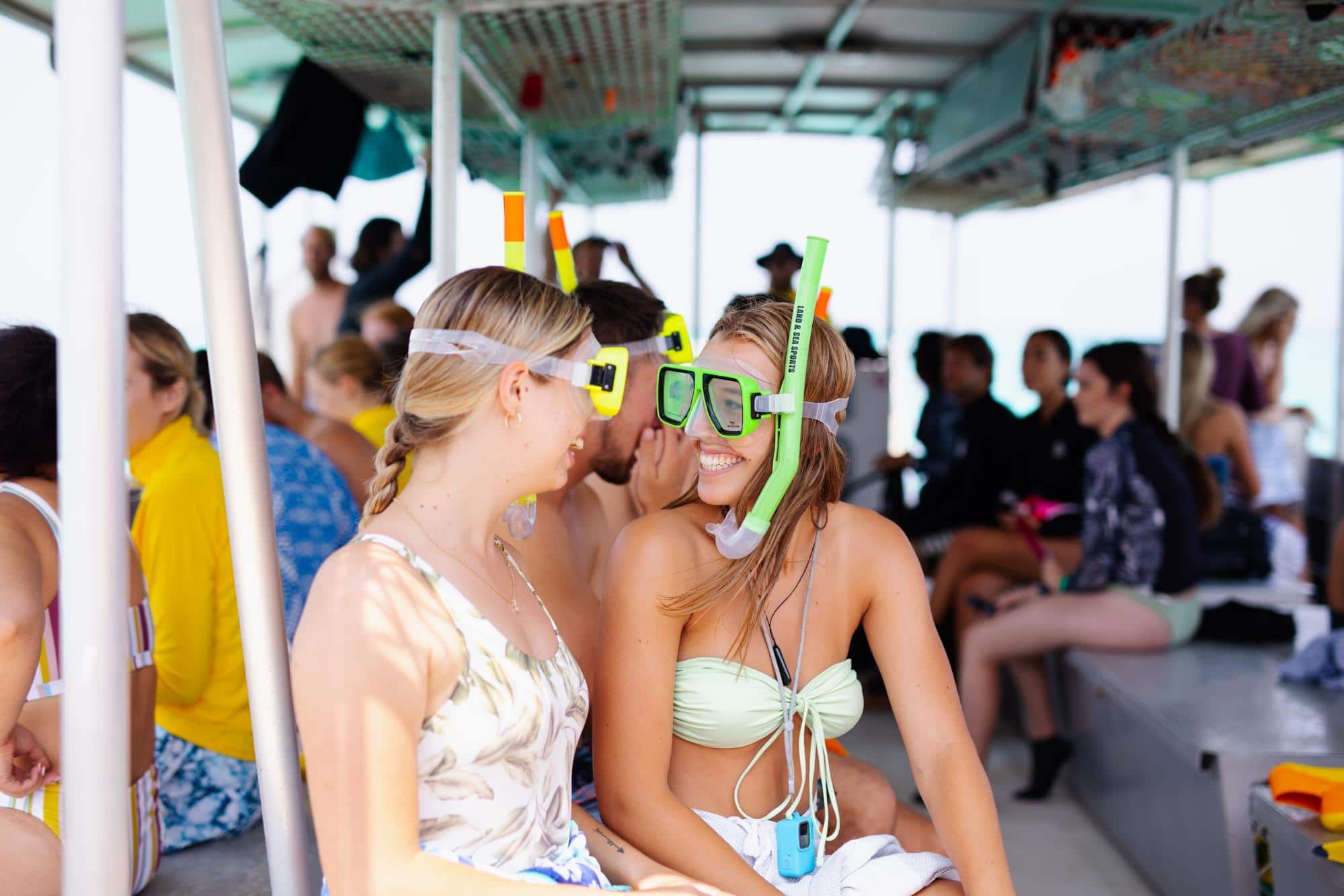 Snorkelling at the Tangalooma Wrecks at Moreton Island (Mulgumpin) is the highlight of your See Moreton Tour. The decades-old shipwrecks provide a beautiful and unique location to visit and explore in South East Queensland.
We asked our passionate snorkel guides to share their best tips for avoiding common snorkelling mistakes and having the best time possible.
Goggles and snorkels and masks, oh my!
Familiarise yourself with the snorkelling equipment you'll be kitted out with at the Tangalooma Wrecks. The crew will have a thorough safety brief with every group before we reach Moreton Island. This gives you time to ask questions and learn all you need to know about the Tangalooma Wrecks snorkel site.

Essential snorkelling gear includes:

Snorkel Goggle/Mask

It takes a little bit to get used to a snorkel mask. You will be given a mask as we cruise to Moreton Island, and our friendly crew will help you fit it properly. It is best to get accustomed to your mask before you head out to the Tangalooma Wrecks, so you are ready to jump in without any concern about your mask falling off or feeling too tight.

Snorkel

What is snorkelling without a snorkel! This piece of equipment is fitted into your mouth and enables you to breathe underwater.

Swim Fins

Fins are a fun necessity when you snorkel. They help you swim faster and conserve energy during your underwater adventure.

Protective Glove

The Tangalooma Wrecks are over 40 years old and, over time, have become fragile to the touch. We supply protective gloves to help you safely push off the wrecks to avoid the risk of cuts or gashes.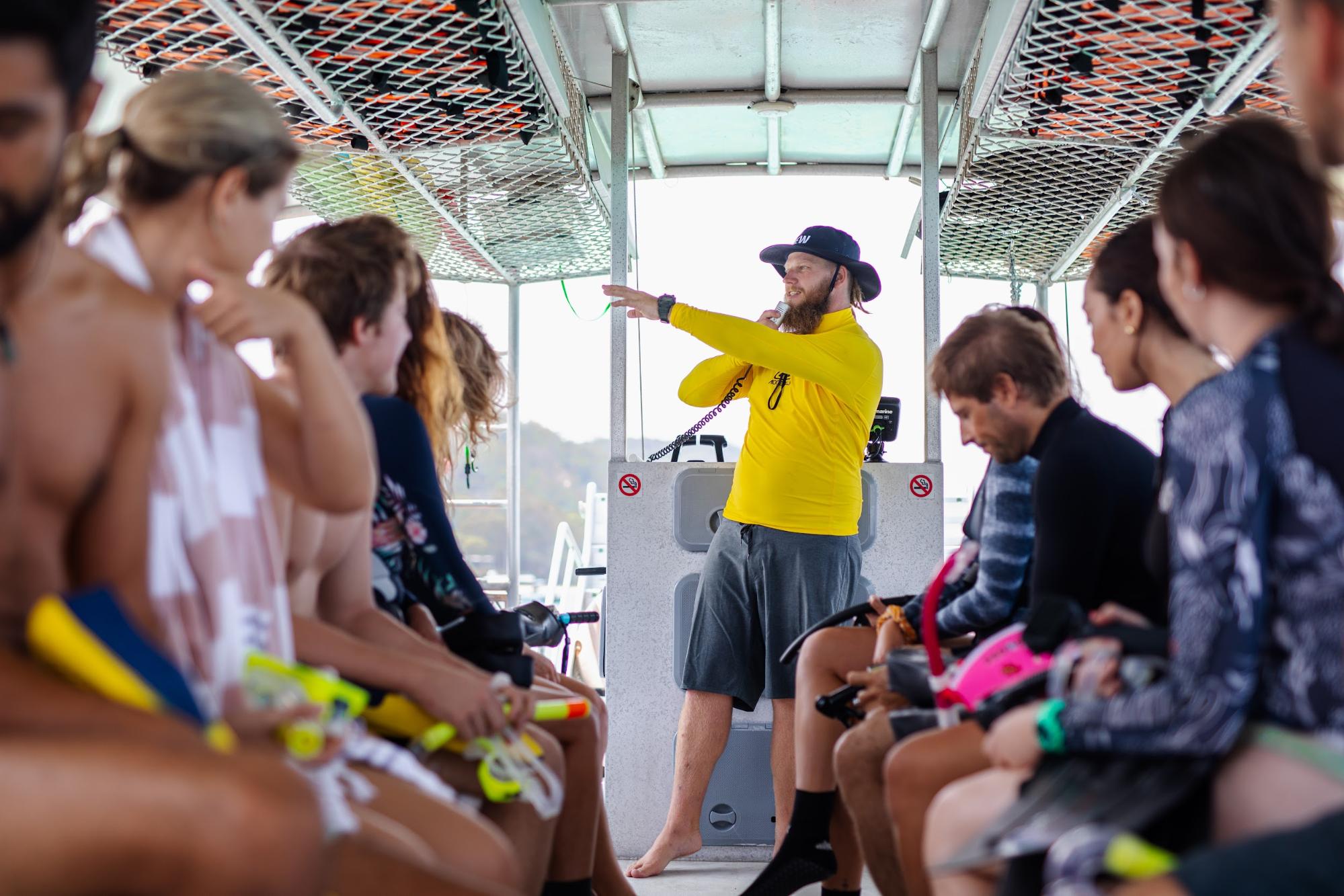 Our professional snorkelling guides will help answer all your snorkel questions.
Every tour will have two experienced snorkel guides to offer the most exciting and comfortable snorkelling experience.

If you aren't the most confident swimmer, don't worry, we have plenty of ways to help you enjoy your time at the Tangalooma Wrecks.

We have different types of floatation devices available to use, including life jackets and pool noodles. The pool noodle is a crew favourite as it helps you glide across the water without using too much energy.
One of the most common issues that happen when snorkelling is when your mask fogs up.

To defog your mask, come up for air and either tread water or find a guide (who will be swimming with a lifebuoy) to hold onto. Take the mask off and use your saliva on the glasses. Rinse off with the ocean water and avoid breathing on it as you put the mask back on.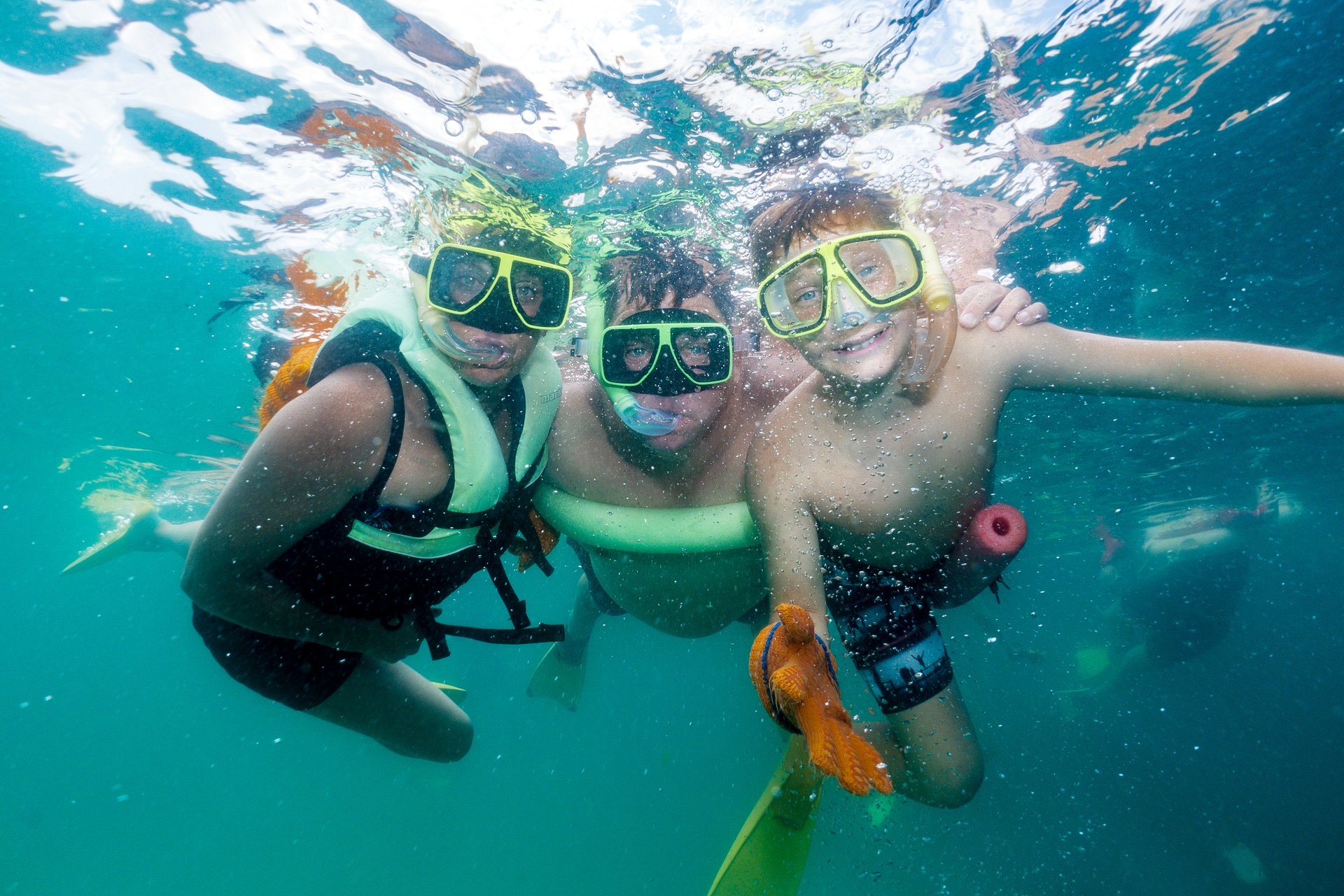 Snorkels can appear daunting for those who haven't used them before. Remember always to keep the top of the snorkel afloat, and if you accidentally breathe in the water, don't panic! Simply blow it out, a bit like how dolphins and whales exhale water from their blowhole!
Although you can't touch the coral or wildlife, you can capture the memories of the experience and vibrant environment with an underwater camera. We have all-day GoPro hire available on board which includes a take-home SD card.

*GoPro hire is an additional cost of $50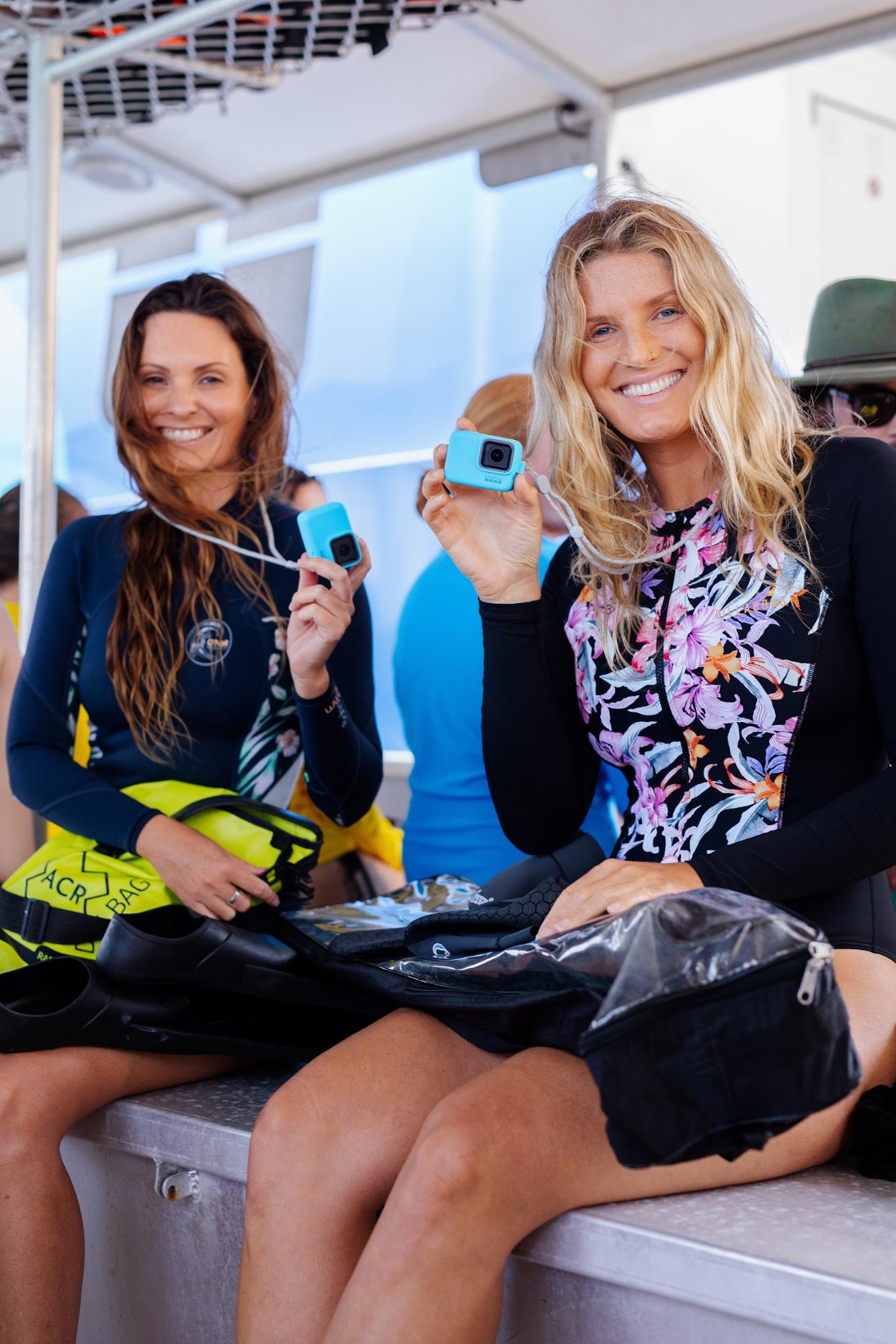 Be the envy of all your friends with awesome underwater footage using our GoPros!
A key thing to remember when snorkelling is NOT to touch anything. As mentioned above, the Tangalooma Wrecks and the ecosystem within it are very fragile. Not only can coral be incredibly sharp, but it is also very delicate and essential for the survival of the marine life that calls it home. Coral grows at an incredibly slow average rate of 0.5-1 inch of growth a year.

You can enjoy the reef and the vibrant wildlife without touching it, protecting it for future generations to come.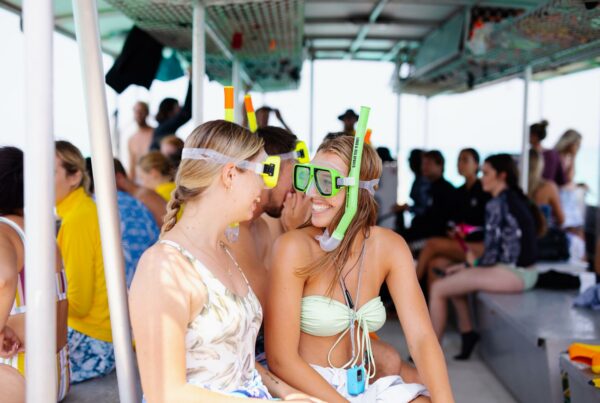 Beginners Guide to Snorkelling
Snorkelling at the Tangalooma Wrecks at Moreton Island (Mulgumpin) is the highlight of your See…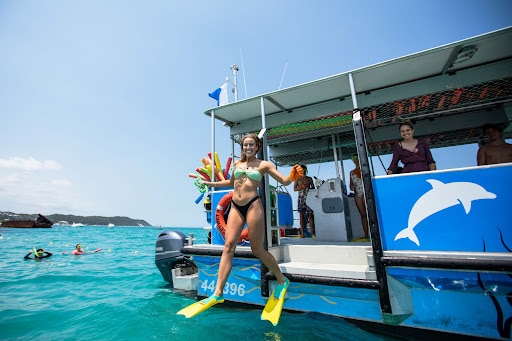 The Best Destination in Queensland 2021
The question of the year: "What are we going to do this summer?" With pins…